Our Veterinarian:
Dr. Beth Starkey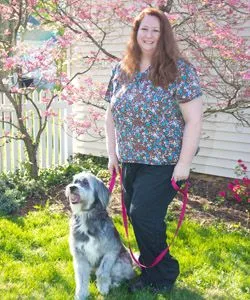 Dr. Starkey is a 1998 graduate of the University of Missouri, Columbia College of Veterinary Medicine.

She grew up in House Springs, Mo, and upon returning from veterinary school, she settled in Robertsville, Mo. In 2000, she opened Starkey Veterinary Clinic, PC.
Dr. Starkey has a teenage daughter that attends the Meramec Valley School District. She also has two Australian Shepherds and a mixed breed that seems to have poodle in the mix. Her quarter horse and Tennessee Walker round out the rest of her animals.
Dr. Starkey is a member of the American Veterinary Medical Association and the Missouri Veterinary Medical Association. She is currently completing classes in fear free Medicine. Dr. Starkey's love for animals is obvious with everything that she does. She sees your pets as four legged family members. Anything that she can do to make your pet more comfortable occurs at each and every visit, whether she is sitting on the floor with your pet or feeding it treats, your baby will find Dr. Starkey to be quite comforting.
In Dr. Starkey's spare time, she enjoys spending time with her family and pets, traveling, and SCUBA diving.
---
Our Staff:
Ashley - Registered Veterinary Technician and Office Manager
Ashley graduated from Sanford Brown College in 2012 with an Associates of Science in Veterinary Technology. She started working at Starkey Veterinary Clinic in 2012 then became Office Manager in 2013.
Ashley enjoys her time with her husband, Tim and her daughter, Lacey. She has a Labrador Retriever mix and a shih tzu/ Beagle mix. A cat named Figaro and chickens complete her family. Ashley's creative and artistic capabilities are seen throughout the clinic and her home.
---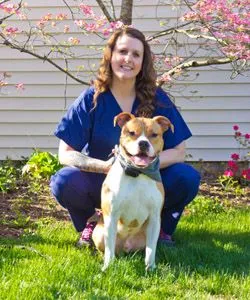 Sara - Assistant
With her almost 20 years of experience working both in emergency medicine and private practice, Sara has spent the last 10 years at Starkey Veterinary Clinic. She is one of our best phlebotomists and is capable of putting a catheter in even the smallest pet. She spends her off time raising her beautiful family, and not only performs Taekwondo and Judo, but also teaches at Missouri Martial Arts in House Springs.






---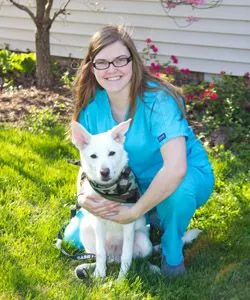 Jenna - Assistant
Being our newest staff member, Jenna has always brought a smile to work every day. She is currently attending Jefferson College, working towards her Associates of Science in Veterinary Technology. She recently added a new member to her family, Barrett, a husky/lab mix. He keeps us on our toes around the clinic. Jenna is also an avid outdoors-women and a gun enthusiast.
---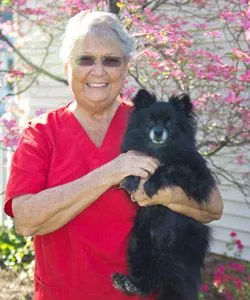 Donna - Receptionist
Our longest employee, Donna has been at Starkey Veterinary Clinic from the beginning. Being the mother of the doctor has its challenges, but Donna is always up for the task at hand. She resides with her husband of almost 50 years, Bill, in House Springs. Donna is an animal lover and has a sweet Pomeranian, Zoie, and two cats at her home. We know that Donna is one of the many reasons that Dr. Starkey is who she is today. Donna loves warm climates, beaches and traveling. She's who you will want to talk to about her famous margaritas.
---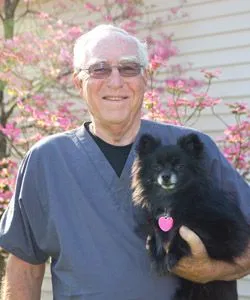 Bill - Maintenance and Horticulturist
Being the father of the doctor, you are asked to do numerous tasks and jobs around the clinic. Bill will be the one that you see mowing the grass, spreading mulch, and maintaining the gardens around the clinic. He also is seen helping in the clinic if we need extra help. He resides with his wife, Donna, in House Springs. He loves the outdoors, traveling, and SCUBA diving.
---
About the Photographer - Lisa Polk
Lisa Polk Photography and Design

Starkey Veterinary Clinic loves Lisa's work. Being the cousin of the doctor has some benefits. Her eye for the perfect shot is impeccable. She will photograph everything from weddings, senior pictures, family photos, to your four legged family members. Lisa can be reached on Facebook at Lisa Polk Photography and Design. She loves to travel to the St. Louis area to visit family.